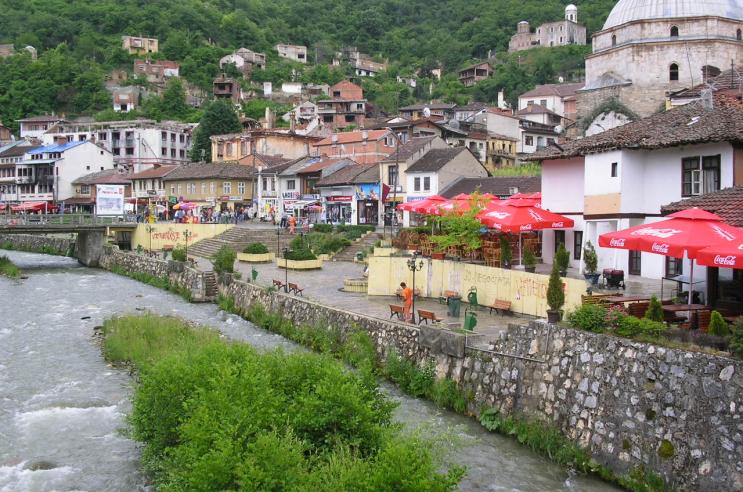 City of Prizren lies in Southern Dukagjini plane, on 640 square kilometers territory. During history it was known as Theranda, a name which belongs to town of Suhareka nowadays. Prizren has a significant role in the region, business and economy wise, because of its geographic positioning in border with Albania and Macedonia.
The city lies at 400 meters above sea level, while some of its surrounding hills of Sharri Mountains reach heights up to 2000 meters.
In Prizren and its 74 surrounding villages there are 240,000 inhabitants, with diverse ethnic origins, thus living in full harmony and giving a cultural diversity to the city. Except for the majority Albanians, the rest are mostly Bosnians, Turks, Roma, Egyptian, Ashkali and a small number of other minorities.
During the 11th century it was known as an important urban settlement. In 1019, its mentioned as headquarters of Byzantine Empire Church. During Serbian rule (12th till 14th century), the region became inhabited by Slavic population. During the rule King Dushan and Urosh, from time to time Prizren has served as headquarters of these kingdoms
After occupation by Ottoman Empire (1455), even though it temporary lost its significance, however it soon became a powerful economic, cultural and administrative (Sandzak and Vilayet administrative centers). In 19th century, Prizren was the second largest business and trade settlement in Albanian territories, with more than 1.500 stores,
Prizren holds a crucial role in the history of the Albanian National Movement; it was also the host of the Albanian Union of Prizren, established on July 10, 1878. The temporary Albanian Government (1881) was also settled in the city of Prizren, presided by the famous citizen, Ymer Prizreni.
Prizren has inherited a lot from its sensational past, especially compounds of cultural and historical values. Among the most visited are: Shatirvan Square, the Fortress and the surrounding compounds, Church of Saint Premta, Church of Saint Saviour, Bajrakli Mosque, Safi Sinan Pasha Mosque, city's Hamams (Turkish public baths), city's water sources, Stone Bridge and a large number of traditional folkloric houses, inherited through centuries.
Administrator






Posts

: 45


Join date

: 2011-03-18


Age

: 45


Location

: Kosova



---
Permissions in this forum:
You
cannot
reply to topics in this forum